Another week has come and gone, and I wasn't able to finish all of the models I had hoped to finish. I had a busy week with friends visiting and some other craziness, but everything's fine now and I'm totally happy with the 8 models I was able to finish! Here's a shot of the models. I spruced up the picture as best I could to make up for not painting a few.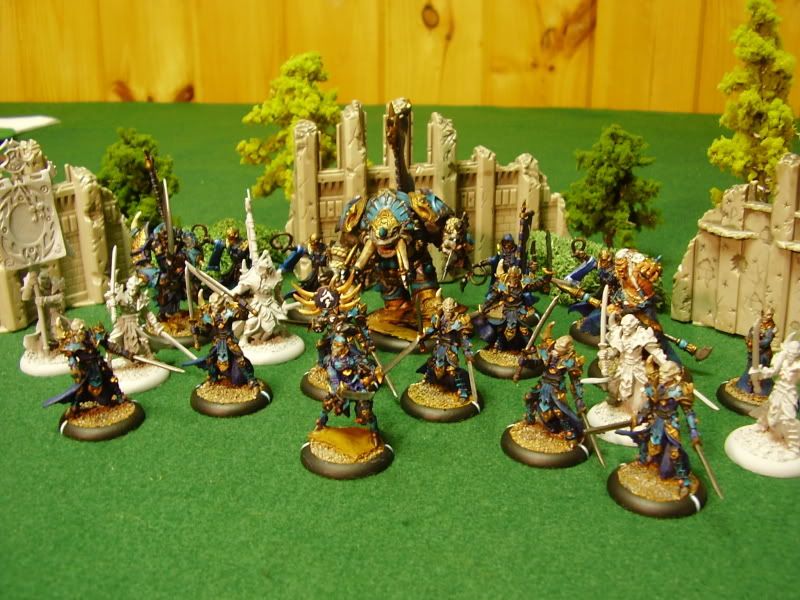 Here's the list, once again, of what I am up to at 25 pts:
Archdomina Makeda
(*5pts)
* Cyclops Savage
(5pts)
* CyclopseShaman
(5pts)
* Titan Gladiator
(8pts)
Paingiver Beast Handlers (Leader and 3 Grunts)
(2pts)
Praetorian Swordsmen (Leader and 9 Grunts)
(6pts)
[
1
][
2
]
* Praetorian Swordsmen Officer & Standard
(2pts)
Extoller Soulward
(2pts)

Since I'm particularly proud of the shot, here's my Extoller: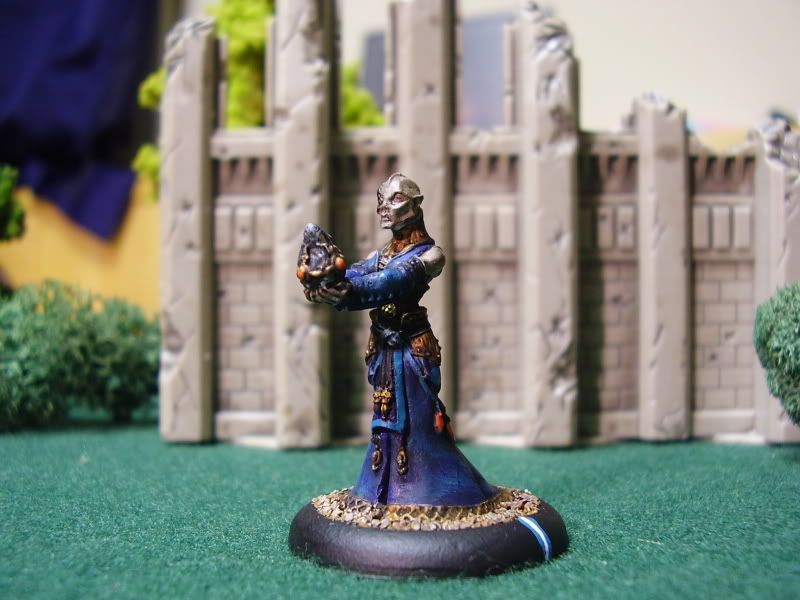 List and Painting:



This list only got one game in this week, but it played very well for me. Painting was annoying because, as I stated frequently to Starman during the course of painting, I -hate- painting units. The repetition just drives me insane. I can't paint them all at once, I prefer to paint a few models at a time. Three is actually the optimal number for me, though I did do four at once one night. (That night was brutal, btw.)



Battle Report vs. Cryx:



I didn't take any pictures of the battle, but it was pretty straightforward. The Cryx player brought Epic Asphyxious (hate!), Deathjack, full unit of bane knights, Bane Lord Tartarus, a pistol wraith, and a skarlock. He won the roll and decided to deploy first, spreading his units out across his deployment zone with the bane knights and Tartersauce to the far right, Gaspy in the middle, and the skarlock and pistol wraith to the left. I countered by deploying my entire army in a block all the way to the far right (his left), putting them across from pretty much just his warcaster, skarlock, and pistol wraith. He kinda freaked out and placed the AD'd Deathjack to interpose that, as I assumed he would, but it put the bane knights -way- out of position.

On his first turn, he ran his knights and Tartarus to try to close the distance, threw Hellbound on Gaspy (hate!) and moved everything up. I cast Defender's Ward on the Praetorians, Savagery on the Paingivers, and ran my whole army to the right to put even more distance between me and the BK's.

His second turn the BK's ran again, about half of them getting in melee with my Praetorians, and Deathjack moved up and killed 3 swordsmen. Gaspy threw a bunch of caustic clouds down in my ranks, forcing me to think hard on my next activation.

Makeda went first, cast Carnage for +2 to all melee attacks, and then tried to hide behind a wall since I had a pretty good idea what was coming next turn. She also feated. My Praetorians, now able to come back from the dead if they were killed this turn, began side-stepping through the BK's and took about 2/3's of them out, with pretty solid rolls. They also plinked up Deathjack pretty good. My Gladiator got enraged by the Paingivers, cast Rush on himself, and attempted to slam the Deathjack. He only needed to roll a 5 because of Carnage and missed! I bought a few attacks and smashed about half the health off of Deathjack. The Shaman activated next, casting Future Sight on himself and trying to shoot Deathjack in the face. He needed an 8, rolled a 5 on two dice, so I boosted after the fact and rolled a 2 for a grand total of 7. Next up, the Savage activated and charged the Deathjack, taking a freestrike from one of the remaining BK's and suffering a pretty solid hit. No spirals were taken out, however, so he was able to scrap Deathjack handily. And, lastly, my Extoller moved up and shot a BK in the face.

Cryx player's turn, he tried to kill as many of the Praetorians as he could, but he only got 5 of them. The Savage went down to a few wicked shots from Tartersauce, and the Gladiator was on the receiving end of Parasite and some BK shots, but he barely took any damage. Gaspy had managed to throw his weapon out to collect souls, though, and was going to have a solid focus pile next turn. All of the Praetorian's came back on my turn, and I managed to chain them into some good spots for attacks.

I activated, had the Gladiator charge Tartarus and kill him, slaughtered all but one remaining BK, picked off his pistol wraith, and despite my best attempts only did 1 damage to his skarlock, but managed to surround it with Praetorians via sidesteps. Makeda hid behind a wall to try to avoid the ridiculous feat about to come on the next turn.

Cryx player activated, moved Asphyxious as far as he could to one side to try to get around the wall, then feated. He was able to place Tartarus and 3 bane knights far enough to the side in order to have LOS to Makeda and charge her. She transferred one attack, then had to take the rest, but the last BK whiffed his attack leaving her with 2 health! The others took out 4 Praetorians, and then he was done, but Gaspy was sitting on 5 focus still from all those souls on the previous turn.

I activated, dropped my upkeeps, casting Carnage and Savagery on the Gladiator. The Shaman cast Rush on him, and he walked 11 inches over to Gaspy through his Hellbound spell for some face beatings. Unfortunately, with all of the focus on him, I was only about to do about half of his life's worth of damage. The last BK finally died, as did the skarlock, leaving Gaspy as the only Cryx model on the table.

Cryx activated, Asphyxious moved around the wall, and with his full focus beat the last 2 health off of Makeda.



Thoughts:



I did pretty well in the fight, and eAsphyxious' feat is just nasty, seriously. I rolled poorly on some attacks that should have done way more damage, and I -really- hate Hellbound.



Moving up to 35pts:



I'm only adding one model for 35pts, but it's a doozy! I'll be throwing a Bronzeback into my list! Very excited, since I love the Fury 5, his animus, Grab n' Smash, and the fact that I can still run all these beasts because my Gladiator won't frenzy with the Bronzeback nearby! Can't wait to get him assembled and painted up!